Every one of our team members is passionate about helping our clients achieve the best possible quality of life, within a caring, vibrant and supportive community.
From preparing nutritionally balanced delicious meals and organising fun activities on a daily basis to leading Goodwin from upper management, our team members love what they do – and are committed to enhancing the lives of our clients. Our staff love making a difference.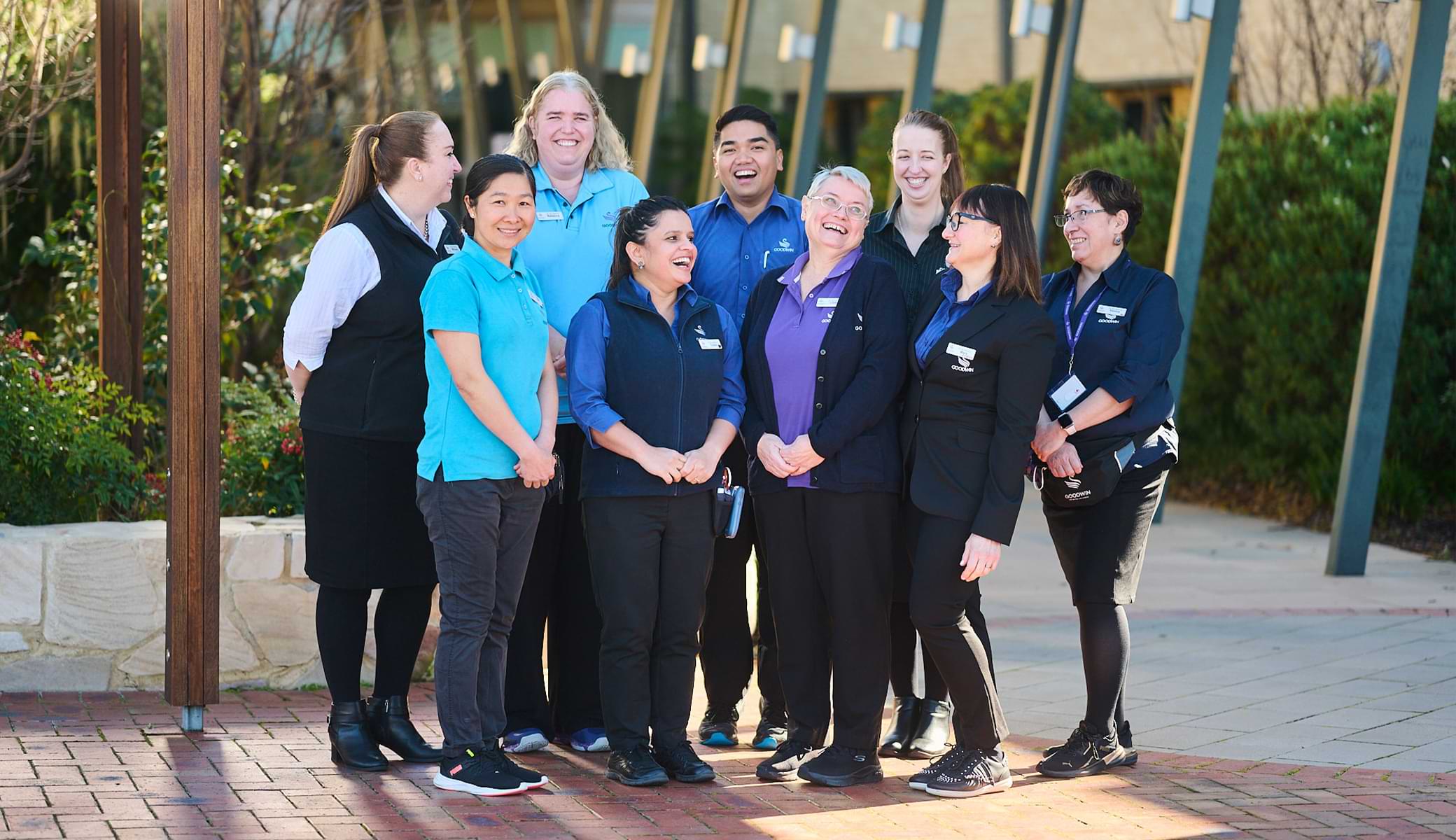 Liesel Wett
Chair of the Board of Directors
Liesel has extensive experience in health services and operations and is a professional member of several reputable organisations. She is Chief Executive Officer of Pathology Australia. She has been on the Board since February 2009.
Laurann has many years of senior management experience in health and aged care services. Laurann Yen is a qualified lawyer and psychologist living in Canberra. Laurann is currently a researcher at the Australian National University.
Fiona is a lawyer and experienced governance professional. Fiona's expertise includes financial acumen, strategy, business development, crisis management, and working with government and businesses to lobby for legislative reform and in ensuring that organisations comply with appropriate legislation and meet the needs of members.
Maria has held various relevant senior management roles across the private and public sector including health, higher education, agriculture and transport portfolios. Maria is a past winner of the Telstra Business Woman's Award and has been on the Board since 2011.
David has extensive practical experience in senior management having filled a number of senior Finance and Business Systems positions in Australian Government agencies. David is a partner with the international accounting firm PricewaterhouseCoopers (PwC) and has been consulting in the financial management, information systems and audit arena since 1989.
Lois has very broad experience in the areas of corporate governance, restructures and mergers. Lois Fordham is Principal and Director of Align Corp Pty Ltd, a strategic consulting company with clients in Canberra, Sydney and Hobart, as well as Hong Kong.
Professor Tracey Smart AO
Director
Professor Tracy Smart AO is an experienced medical professional, strategic leader, academic, non-executive director with a focus on creating better health and wellbeing outcomes. Tracy's experience includes strategic leadership, public health and health security, aerospace and military medicine and cultural change processes.
Mr David Risbey has 30 years' experience in executive and project leadership roles, serving in both the private sector and the not-for-profit community housing sector.  David's knowledge and experience includes property and related matters including property development, design and construction, asset and estate management, and legislative and regulatory compliance.
Dr Nadine White is an experienced independent non-executive director with a strong interest in how boards can positively enhance social inclusion, impact, and working to improve outcomes for individuals and communities. Dr White has an extensive background as a director in both the public and private sectors, having served previously on boards in the aged care, health, disability, Indigenous affairs, and financial services sectors.
Stephen Holmes
Chief Executive Officer
Stephen joined Goodwin as Chief Operating Officer in 2014 prior to commencing in the role of Chief Executive Officer in 2022. He came to Goodwin with more than 25 years' experience in the not-for-profit sector, including housing, education, health, community care, sport, clubs and animal welfare. His experience also includes providing finance and business services to commercial enterprises in the property development and construction industries, and healthcare manufacturing and distribution.
Michael Holdom
Chief Operating Officer
Michael is a dedicated professional with more than 17 years accounting experience, and 12 years in the aged care sector. As part of the executive team, Michael is focused on ensuring the systems infrastructure and financial modelling support Goodwin's strategic goals. He has recently driven critical ICT projects during Goodwin's expansion phases and implemented upgraded financial and clinical systems.
Jamie Fillingham
Executive Manager Strategy
Jamie has over 20 years' experience within the health industry both within Australia and the UK. Jamie is a registered nurse and has a passion for assisting people to stay at home and within their communities through innovative and tailored approaches to delivering quality care. Jamie's role is to provide strategic management to the business stream with a focus on growth, building capability, and ensuring excellence in service delivery and client experience.
Tamra MacLeod
Executive Manager Clinical and Health Services
Tamra has contributed to the evolution of Aged Care Nurse Practitioners in her 8 years in the role, participating in two government-funded Nurse Practitioner pilot projects. She also played a lead role in establishing the innovative Goodwin Wellness Centre. Tamra's role includes research, mentorship and clinical expertise to other health professionals.
Erik Boddeus
Executive Manager Retirement Living, Property and Development
Erik is responsible for all activities within Goodwin's Retirement Living division. Erik has more than 25 years' experience in aged care and seniors' living. After 13 years in the industry in The Netherlands, Erik moved to Australia in 2003, joining Hindmarsh in Canberra 2007 where he was National Retirement Manager from 2013 until joining Goodwin in 2017. Erik is Chair of the ACT Retirement Living Committee of the Property Council of Australia, and Co-chair of the Joint ACT Retirement Villages Residents Association/Aged and Community Services NSW/ACT Committee.
Sarah Lewis
Executive Manager Residential Care
Sarah has years of experience gained working in the aged care industry in both residential and home care. Sarah's knowledge and expertise developed within the aged care industry allow her to provide continuous professional support to Goodwin's community team enabling them to deliver the best care and outcomes for Goodwin's clients, now and into the future.
Pauline Hugler
Executive Manager Development, People and Culture
Pauline has over 20 years extensive experience in Human Resources, Industrial Relations, Payroll and Project Management roles at both senior executive and operational levels. As Executive Manager Development, People and Culture, she oversees the company's strategic initiatives, provides leadership, business support and strategic direction on HR practices, legislation, and policies to ensure the HR strategic framework supports the business objectives and outcomes of the organisation.