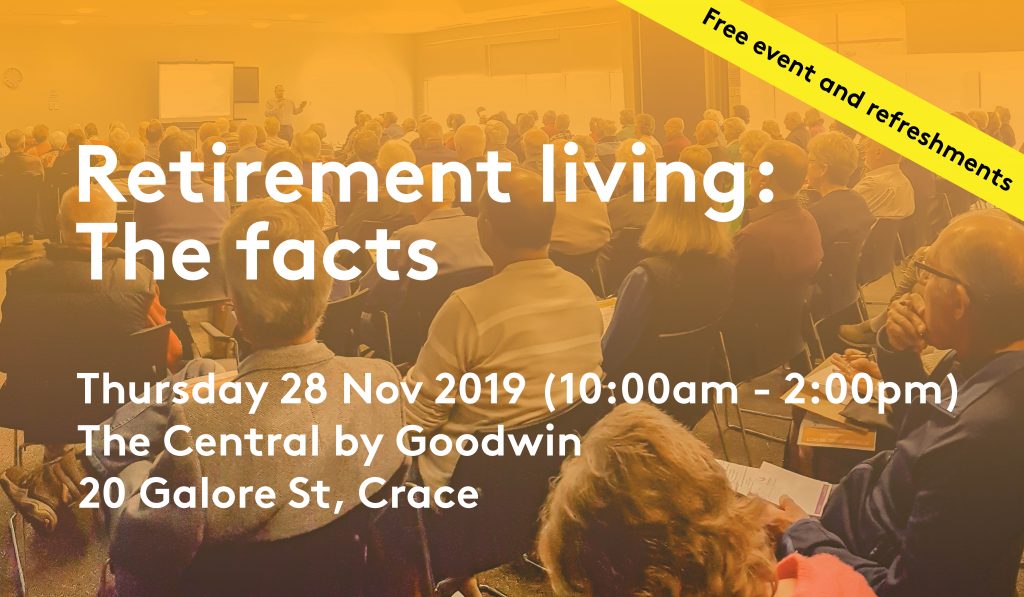 There is currently a lot of misinformation about retirement villages and aged care, and it can often be difficult to gather all the facts needed to make a confident decision about retirement living. Goodwin has put together an information session where you can get down to the detail and ask any questions you may have about the options available to you.
Hear from the experts and explore your options at 'Retirement Living: The facts' information day on Thursday, 28 November at The Central by Goodwin, 20 Galore St, Crace.
The event features three knowledgeable presenters who will explain retirement village living, village contracts and home care. Free refreshments will be provided. You may also like to join Goodwin for a viewing of our apartments and amenities so you can see what retirement living looks like.
Our presenters:
Renee Heins, Retirement Living, Goodwin, discusses the 'ins and outs' of retirement living:
How is it different to aged care and what are the benefits?
What are the fees and how do contracts work?
What do I get for my money and is my investment protected?
Leanne Thompson, Community Liaison Manager, Goodwin, talks about getting help at home:
What is home care and who is it for?
How do I sign up?
What are the different levels of support?
Emma Bragg, Partner, Tetlow Legal, delves into contracts:
Retirement living contracts and how they work
Is it like buying a house?
Tricks and traps
RSVP by 25 November.
t: (02) 6175 5045