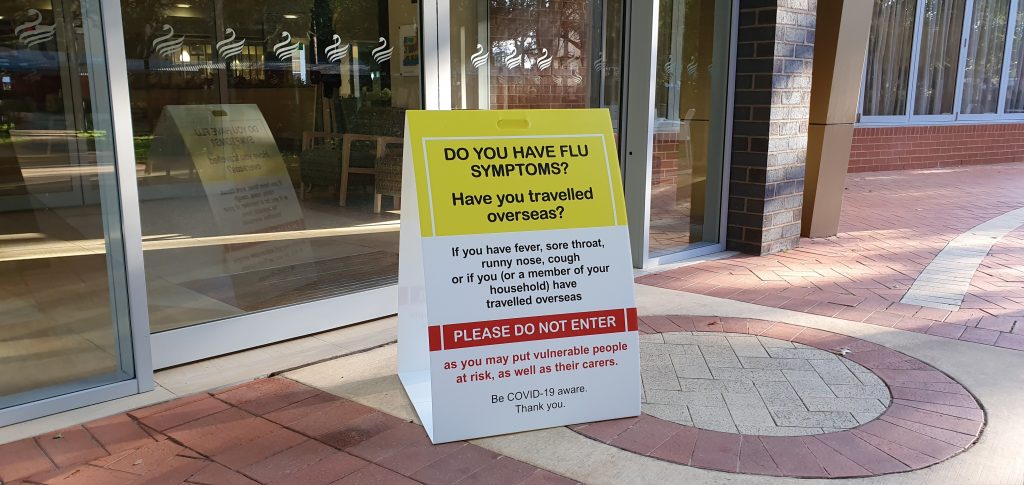 Be COVID-19 aware
The unfolding COVID-19 (coronavirus) pandemic requires strong measures to protect the community. Goodwin's residents and clients are in a higher-risk group and we will keep the community informed on the precautions we are taking. We ask for your cooperation when you come into contact with the Goodwin community.
Related pages
Residential aged care visitor guidelines
Understanding and preventing COVID-19
More information and resources

Our actions and planning
In line with government advice, Goodwin is ensuring appropriate precautions to keep residents and clients as safe as possible from COVID-19, including monitoring, assessment, testing and planning for any disruptions.
Goodwin staff members are asked to avoid the workplace until provided with medical clearance, if showing any symptoms or if they have recently traveled.
All of our staff undergo mandatory training in infection control every year. Audits and refreshers are underway alongside regular briefings for staff, residents, clients and families.
Goodwin continues to monitor advice from the Department of Health, and ACT Health's Communicable Diseases Surveillance Program as the situation unfolds.
We are also:
implementing strong hygiene measures and providing relevant resources to staff, residents and clients
continuing to review our policies and procedures, and business continuity plans
monitoring and communicating with travelling employees, residents and clients
communicating with third parties who may come into contact with our people
planning ahead in regard to resources, supplies and other potential disruptions
monitoring government contingency planning measures
managing social distancing as appropriate, such as group outings and events.
Guidelines for visitors to Goodwin
Please do not enter a Goodwin site if you:
are experiencing any flu-like symptoms,
have travelled to any recent COVID hot spots,
have been in contact with any confirmed COVID-19 cases.
Please familiarise yourself with the all current visitation guidelines for:
Residential aged care
Retirement Living
To visit a loved one in Goodwin residential care during the COVID-19 pandemic bookings are essential. This is so we can control visitor numbers as part of infection control procedures and under health authority directives. To learn more, or to book your visit, click here.
Recent travel
Visitors must be aware of, and in accordance with, the most recent government travel advice.
Please visit https://www.covid19.act.gov.au/community/travel for current travel information.
If you have recently traveled to an area with a COVID-19 outbreak, you are required to isolate for 14 days and are not able to enter a Goodwin facility.
Understanding and prevention
What is coronavirus and COVID-19?
COVID-19 is a form of coronavirus and is the name given to the current outbreak which originated in Hubei Province, China.  Coronaviruses can cause illness similar to the common cold and can cause more serious diseases. Other types of coronaviruses include Severe Acute Respiratory Syndrome (SARS) and Middle East Respiratory Syndrome (MERS).
What are the symptoms?
Symptoms can include a fever, cough, sore throat, tiredness and shortness of breath.
While coronavirus is of concern, it is important to remember that most people displaying symptoms are likely suffering with a cold or other respiratory illness—not coronavirus.
Some people who are infected may not get sick at all, some will get mild symptoms from which they will recover easily, and others may become very ill, very quickly.
Who is most at risk of serious illness?
From previous experience with other coronaviruses, the people at most risk of serious infection are:
people with compromised immune systems (e.g. cancer)
elderly people
Aboriginal and Torres Strait Islander people
people with diagnosed chronic medical conditions
very young children and babies
people in group residential settings
people in detention facilities.
How is this coronavirus spread?
The coronavirus is most likely to spread from person-to-person through:
direct close contact with a person while they are infectious
close contact with a person with a confirmed infection who coughs or sneezes, or
touching objects or surfaces (such as door handles or tables) contaminated from a cough or sneeze from a person with a confirmed infection, and then touching your mouth or face.
Most infections are only transmitted by people when they have symptoms.
What can I do for prevention?
Practising good hand and sneeze/cough hygiene is the best defence against most viruses:
Wash your hands frequently with soap and water, before and after eating, and after going to the toilet.
If it is not feasible to wash your hands with water, use a hand sanitiser, all over your hands and fingers until your hands are dry. This step should take about 20 seconds.
If you cough or sneeze, do so into your elbow. This is more likely to prevent viruses and bacteria from taking to the air.
Distance yourself – if you see someone coughing, move away.
Follow the government guidelines for self-isolation if you have recently travelled or have come into contact with a person with confirmed COVID-19.
Information and contacts
To ensure we can communicate promptly with members of our Goodwin community, please make sure we have your current email address and/or phone number(s).
For the latest advice, information and resources:
If you require translating or interpreting services, call 131 450.